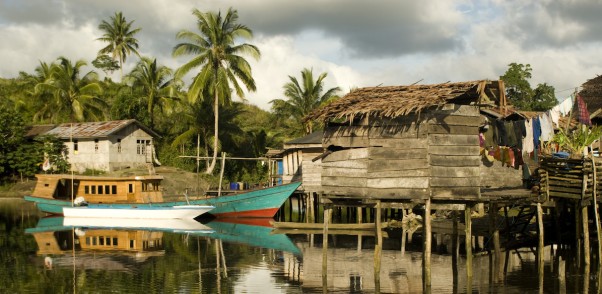 Aru
A journey to the end of the world
When looking at a map of Indonesia, a tiny archipelago lies at its most south-eastern border, wedged between Australia and Papua: these are the Aru Islands, capital Dobo. A group of islands off everything. Off time, off tourism guidebooks, off the usual beaten tracks. However, Aru is rich of an exuberant nature, its forests and seas still offer to the Melanesian inhabitants everything they need, as it has always been the case. Aru is a land of emerged coral, cut by rivers flowing from Papua during ice ages, rivers, which have since become channels that it is not always easy to discern from rivers. To travel over the waters of Aru is like getting lost in a water maze surrounded by the forest.
Along these channels, villages are scattered, dispersed, sharing, by groups, a dialect, and sometimes a common history. Our village, Wakua, the one you will discover if you follow us, houses a community of about 1,400 people. Getting to Wakua is like making a kind of journey into the end of the world, an immersion into the source of life, which flows like water in the channels fragmenting the Aru Islands: slowly, at tides and monsoons rhythm. In the surrounding forests, the Greater Bird-of-Paradise parade and send its unique and unforgettable cry into the air. Some villagers have decided to protect them after seeing us travelling again and again to Wakua to photograph and film the birds... For you, it is thus an almost guaranty to be able to observe them. Aru is also renowned for the sea that surrounds the archipelago. The Arunese waters are so crystalline that the number one pearl producer in the world, who grew up in the archipelago, still possesses pearl culture platforms. It is to discover these two emblems of Aru, the pearls and the birds-of-paradise, that we invite you on a unique and exclusive journey...
---
What brought us there...
The friendliness of the people, the friendships made, the birds-of-paradise, the life in the jungle, the legends, the life…
Our tour 
8 days to discover the fauna of Aru
---
More information?