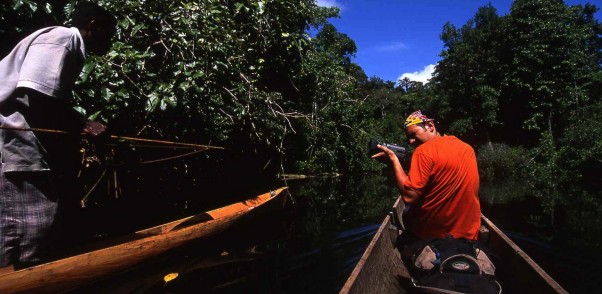 Miguel Angel Garcia
Miguel Angel Garcia
July 2004: I am in the Aru forest and wake up every morning between 3 and 4 am to try filming birds-of-paradise or parrots. Never before have I lived seven weeks in the jungle nor have I been particularly interested in birds as beautiful as these. From time to time, I wonder what I am doing here, why I came here in the first place, what is the meaning of this adventure. Then, the magic of the place is there and overwhelms me.
I planned this very first trip to Indonesia after Loïc Degen told me so many stories of his journeys there. Since the time we met in high school we have become great friends. I was always the first to hear his stories and discover his slides. I followed him to Indonesia without knowing what to expect. My only luggage was the pleasure of travelling. And like him I fell in love with this multifaceted country and its inhabitants, whose kindness is unique.
After shooting three films there, having lived many unforgettable moments and encountered many new friends, I have finally settled in this fascinating country where I spend much of my time. Yogyakarta in Central Java is now my second home and every day there is a journey into an amazing diversity and cultural richness. After having discovered Indonesia as a traveller, I now live it and know it from the inside, which is totally different.
I cannot think of a better place than Indonesia to respond to many of my desires to discover the world. I am passionate about cinema and I have plenty of journalistic curiosity (as it was my first job) and am fascinated by history, linguistics and ethnology. But every discovery only makes sense when it is possible to share it.
This is why creating KASOAR TRAVEL was the obvious thing to do. What drives me is offering my experience and my knowledge to others. I still have so much to experience and discover in Indonesia that I am never short of ideas on what to offer next.